Steve Morrill, Principal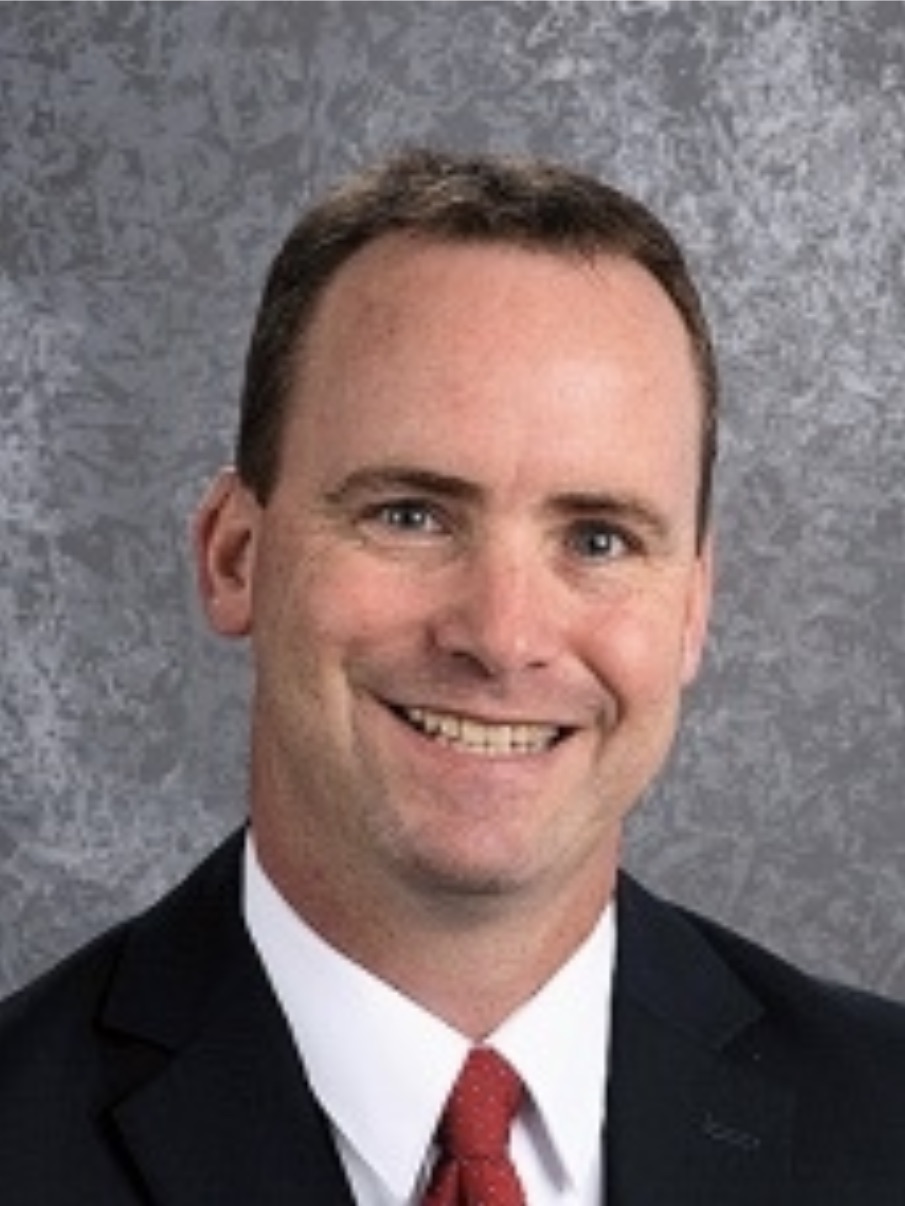 It is both an honor and a privilege to serve as Thompson Middle School's principal. I have been a part of the St. Charles school community since 2000 and am proud to say that I am beginning my 31st year as an educator and my twelfth as a principal in D303. During my time in St. Charles, I have served as the principal of both Thompson Middle School and at Wredling Middle School. My classroom teaching experience spans 16 years, working in three different school districts, including St. Charles.
As your principal, I will work to create the best possible learning environment at Thompson. At the center of this environment are the kids. I will always have the best interest of all students in mind as decisions are made. A goal of mine is to consistently make progress and show improvement. I will be working to instill this goal in both students and staff.
I am excited about the future of TMS. We have a dedicated, professional staff working hard to challenge students and help them find success. At Thompson, we will make the collective effort to create an environment most conducive for students to reach their greatest learning potential.
Our programs focus on active learning and providing middle school-appropriate opportunities for our students. With that in mind, the staff is also committed to our District 303 Vision Statement:
Attain Excellence
Learn with Passion
Live with Integrity
I am looking forward to working with the Thompson community to help support the best possible experience for our Thunder students!
If I can be of assistance, please contact me.
Michelle Dague, Assistant Principal
My name is Michelle Dague and I am one of the Assistant Principals at Thompson Middle School. I began my teaching career in 2001 after completing my Bachelor of Science in Secondary Education from West Chester University in Pennsylvania. Additionally, I earned my Master of Arts in Educational Leadership from Aurora University in 2006 and my National Boards accreditation in English Language Arts/Early Adolescence in 2009.
At the onset of my career, I had the opportunity to teach 9th, 11th, and 12th grade English in the Coatesville Area School District in Coatesville, Pennsylvania during the 2001-2002 school year. I have been blessed with the opportunity to work in Community Unit School District #303 for the past 17 years. During my tenure in D303, I had the privilege of teaching 6th, 7th, and 8th grade Language Arts, 8th grade Drama, and 6th grade Social Studies at Thompson Middle School from 2003-2013. For the past 7 years, I have been an Assistant Principal at Wredling Middle School and look forward to bringing my years of experience with me as I transition to Thompson as an administrator. It is my love of working with students, staff and parents/guardians that provides me great joy, as I am committed to our student's safety, well-being, and academic progress. While I have a passion for learning, it is my desire to connect and help students reach their full potential that drives me each day to do what I do as an administrator.
When I am not working, I love to spend time with my family and friends. It is not unusual to catch me with a book in my hand as a great love of mine is reading!! I also love to cook, play golf, and travel, but most importantly, I love spending time with my family. My husband, Mark, and I have two children, Heather (33) and Mark (31), both graduates of St. Charles North High School.
As a parent, teacher, and administrator, I look forward to partnering with you as your child continues their academic journey. Please don't ever hesitate to contact me with your celebrations, concerns, and/or questions.
Shane Darnell, Assistant Principal
My name is Mr. Shane Darnell and I am very excited to be an Assistant Principal at Thompson Middle School. I look forward to working with the staff, students, and parents of the Thompson community this year.
I am a graduate of Old Dominion University, where I majored in Health and Physical Education. In 2009, I received my Master's Degree in Educational Administration from Aurora University.
In 2002 I began my teaching experience in Chesapeake, Virginia at Great Bridge Middle School. In 2005 my wife and I moved from Virginia to Yorkville, Illinois.
I worked at Yorkville High School, teaching Driver Education, Physical Education, and I was the Head Wrestling Coach. In 2011 I became the Dean of Students at Yorkville Middle School.
My wife, Tracy, and I have two boys. Kenton is our oldest son and Blake is our youngest son.
If you have questions or comments feel free to contact me.
Danielle Moeller, Student Support Coordinator
My name is Danielle Moeller and I am very excited to be the new Student Support Coordinator at Thompson Middle School. Prior to taking this position, I taught 7th/8th grade math for 10 years at Carpentersville Middle School in CUSD 300. Additionally, I acted as an Assistant Principal at Parkview Elementary for two years and returned to Carpentersville Middle School as an Assistant Principal for the last three years in CUSD 300. I am very much looking forward to this next chapter of my career.
I am a graduate of Illinois State University, where I received my Bachelor's Degree in Elementary Education with endorsements in Math and Language Arts. In 2014, I attained my Master's Degree in Educational Leadership from Aurora University.
Outside of school, I enjoy spending time with my family. My family consists of my husband, Mark, my 13-year-old daughter, Katie, and my 9-year-old daughter, Addison. We also have four fur babies that are our cats named Major, Lightning, Moo Moo, and Molly. Two of them are kittens and were just adopted during quarantine so we are still getting all of them acclimated with each other. In addition, we spend a lot of our time at cheer competitions as my oldest is an all-star cheerleader. She has been cheering since she was five years old so the gym family is an extended part of our family. We currently reside in Yorkville, IL.
My goal in this new position is to ensure we are doing what is best for all students socially, emotionally, and academically. Please feel free to contact me if I can be of assistance to you.
Sam Pasholk, Student Support Coordinator
Hello! I am Sam Pasholk and I am very excited to serve the students, staff, and the Thompson community as one of the Student Support Coordinators, here at Thompson Middle School.
I graduated with my Bachelor of Science from Northern Illinois University in 2012, where I majored in Physical Education with a minor in Health Education. Go Huskies! In 2018, I received my Master of Arts in Educational Leadership from Northeastern Illinois University.
Prior to joining the team at Thompson, I taught physical education and health at both the middle school and high school levels. In addition to teaching, I served as a Team Leader and Department Head of the Wellness team at John T. Magee Middle School in Round Lake. I also have coached both boys basketball and soccer at Magee and South Elgin High School.
When I'm not working, I am usually spending time with family and friends. I'm an avid sports fan so I am usually staying up to date on most of the Chicago teams. I also enjoy exercising and try to stay active as much as possible.
I look forward to working together this school year to ensure our students are getting the best educational experience possible. Please reach out to me at any time if you have any questions or concerns. ROLL THUNDER!